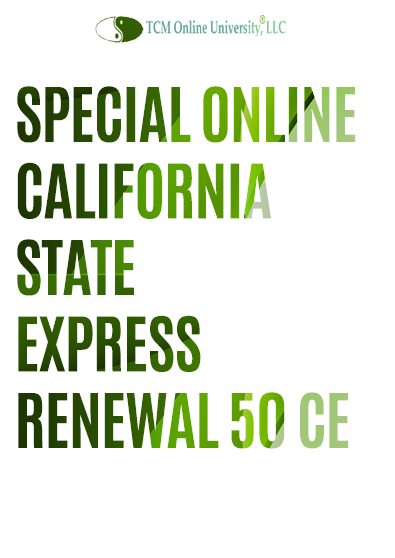 SPECIAL 50 CEU – California State Express Renewal OPTION A 50ce
Refund Policy: You are entitled for a full refund within 10 days of purchase excluding certification.  If a certificate is issued then no refund will be given.
This 50 CEU special package includes: 25 Live Webinar hours and 25 online CEU on Traumatology Basic & Advanced level Via Traditional Oriental Medicine. This is an economical package.
To select webinars complete the purchase of the 50 hr special first, then go to the CEU LIVE WEBINAR section scroll down to the Live Webinar Table (Approved by CAB) and select the codes/courses (EACH DAY THERE MAY BE 2 TO 3 COURSES OFFER) and times up to 25 to 27 hrs, then manually type your request to ce@tcmonlineuniversity.com (YOU DON'T SELECT THE COURSES FROM THE SITE AND YOU DON'T PUT IT IN THE SHOPPING CART) We will then confirm all of your selections.
( IMPORTANT : You have a 6 months period after purchase to complete all of your Live Webinar hours. Also please read all webinar registration policy and instructions.)
Product Description
This course includes – PDF course file and you can register for the webinar at – CEU Live LAC https://tcmonlineuniversity.com/ceu-live-lac/