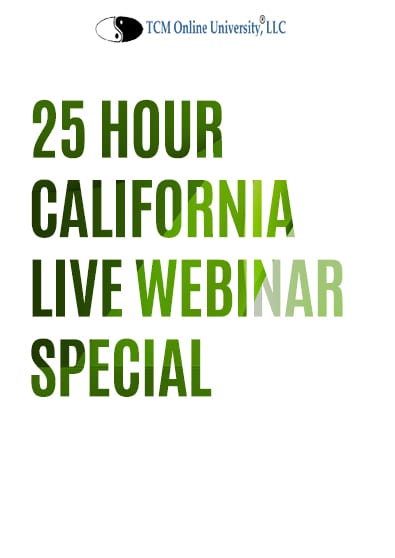 25 Hour Live Webinar Special
The 25 Hour Live Webinar Special are for CA Live hrs renewals at a discount of 250.00
1. This special package has to be finished by the end of NOVEMBER 21, 2021.
2. You must attend 3 full days to fulfill your 25 hrs.
3. Each full day there may be 2 or 3 webinars that you have to attend. You have to do ALL the webinars for that date. You do not pick the webinars individually.
Here are the dates you have to choose from: (you pick the dates only and NOT the webinars)
SEPTEMBER 2021 Approved
9/25 (PTSD) 4ce (WZT) 4ce
9/26 (BP) 6ce (QI) 3ce
OCTOBER 2021 Approved
10/3 (WT) 6ce (PARK) 4ce
10/9 (MJNA) 8ce
10/10 (MJNAII) 8ce
10/16 (BAMA) 6ce (TER) 4ce
10/17 (BAMAII) 6ce (256) 4ce
10/23 (PTSD) 4ce (TRAU) 4ce
10/24 (BP) 6ce (WZT) 4ce
10/30 (SHAO) 4ce (SHAOII) 4ce
NOVEMBER 2021 Approved
11/6 (MJNA) 8ce
11/7 (MJNAII) 8ce
11/13 (BAMA) 6ce (SHAO) 4ce
11/14 (BAMAII) 6ce (SHAOII) 4ce
11/20 (BP) 6ce (PTSD) 4ce
11/21 (WT) 6ce (256) 4ce
IMPORTANT: PLEASE READ AND FOLLOW ALL THESE INSTRUCTIONS
For the description of the webinars, click CEU LIVE WEBINAR TABLE for the courses menu, scroll down to the webinar table and click each code individually (EACH CODE IS AN INDIVIDUAL WEBINAR). After you made your purchase, select 3 separate dates that you like to attend and email it to ce@tcmonlineuniversity.com
We will then confirm your selected dates.(You do not put the courses in the shopping cart)
IMPORTANT: YOU MUST SELECT ALL 3 DATES AND NOT TO SELECT EACH WEBINARS INDIVIDUALLY.
ALSO THERE IS A 48 HRS PRIOR AND CANCELLATION POLICY FOR ALL WEBINAR REGISTRATIONS.
If you still have questions call the office at 310-623-2384.